"When it comes to communication, I thought I had heard it all. Brandl has definitely proved me wrong. Simply great!"
Andrea Böhm, First Bank of the Austrian Sparkassen
Born 1968 in Jena, today Peter Brandl commutes between the diverse worlds:
Professional Aviation and Management, Berlin and Los Angeles, Consultant, Pilot, Speaker and Entrepreneur.
With over 3.000 presentations in 23 countries, Peter is one of the most experienced and extraordinary characters in the international market of professional speakers. That is probably why he was elected as President of the German Speakers Association.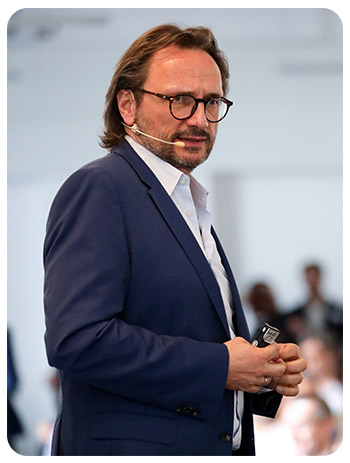 C.V.
Short-Profile
Peter Brandl – Professional Pilot, Management Consultant, and Author.
Peter Brandl is a professional pilot, flight instructor, management consultant, entrepreneur and author of several successful career books (such as Crash-Communication – why pilots fail, and managers make mistakes – and The Future Code – how to survive digitization).
In addition to his aviation career Peter is one of the most experienced and for sure the most extraordinary keynote speaker in Germany. His relaxed and professional style has been inspiring people worldwide for more than 20 years.
In his presentations and seminars, Peter is the ultimate communicator who transfers aviation conduct to everyday business life. Crucial decision-making skills in life and death situations in aviation can be transferred to business decision making to avoid mistakes at work and develop more concise and effective communication. Because: 80% of aviation accidents are caused by human error. Peter Brandl does not beat about the bush – he shows true solutions with lots of humor.
Born on the 15th of February 1968 in Jena, Peter Brandl moved in 1981 with his mother to Schweinfurt. There, at the age of 14, he began sky gliding, which soon afterward led to the first interruption of his professional career. An aviation doctor explained to him that he could not become a "real" pilot because of his glasses. Peter, 14 years old, had no reason not to believe this professional expert and buried his aviation dreams.
He founded his first sales company at the age of 18, studied at the same time social welfare and started his training company "Brandl-Training" at the age of twenty-seven.
Much later, at almost 40, Peter started flying again and found out something astounding: the aviation doctor back then was an idiot! He had no idea! Even with glasses, it was possible to become a pilot.
Of course, your eyesight restriction must be within certain limits – but that was no problem for Brandl. True to Milton Erickson's phrase, "It's never too late to have a happy childhood." Peter set off again. He became a professional pilot, flight instructor and finally a commercial airline pilot. However, he only had a brief career as an active airline pilot. He found it much more interesting to transfer his experiences to the corporate world.
He wrote his first book, "Crash Communication – Why Pilots Fail and Managers Make Mistakes." Not only does he give countless presentations to companies and at conferences, but he continues to train airline crews. He gives training in Crew Resource Management (CRM) and Human Factor Limitation to help prevent accidents and make flying safer.
YOUR BENEFITS
With over 3.000 presentations in 13 countries on 3 continents, Peter Brandl known as "The Pilot" is one of the most sought-after success coaches. Corporations such as Airbus, Audi, Bosch, Deutsche Bank, Commerzbank, Credit Suisse, Microsoft, IBM, or Siemens trust his expertise and value how he combines his aviation experience with intensive management and business knowledge.
Because he is much more than just a pilot.
Peter Brandl lives in Berlin and Los Angeles.